Seaside Rotary's charitable initiatives and projects are supported by several fundraising efforts throughout the year. The club's major fundraising event is the Seaside Rotary Golf Classic.
Seaside Rotary Golf Classic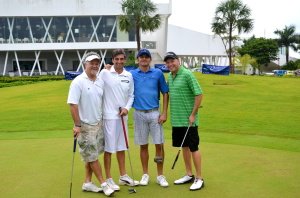 Rotary Club of Playa del Carmen Seaside hosted their first annual Charity Golf Tournament, the Seaside Rotary Golf Classic on October 26, 2013 at the Grand Coral Golf Course in Playa del Carmen. Some of the Riviera Maya's best golfers came out to take part in this inaugural tournament and show their support for Playa del Carmen's newest Rotary Chapter and its ongoing programs and charitable initiatives. Participating golfers took home a number of impressive honors and a variety of prizes all donated by local businesses. Due to the success of this inaugural event, two more tournaments followed in November 2014 and March 2015 each drawing more and more golfers and local business leaders to support the club's efforts.
The tournament organizing committee offers a variety of sponsorship and prize donation opportunities for both individuals and local businesses. Business leaders in the community are encouraged to support this charitable event by becoming food and beverage sponsors, hole sponsors and providing prizes for the longest putt, longest drive and closest to the pin contests. These contributions will receive maximum publicity throughout the Riviera Maya, and of course at the tournament. This has proved to be an exciting event with excellent attendance providing excellent exposure for participating businesses.
If you would like to receive a complete list of sponsorship levels, prizes needed and other ways you can contribute to the Seaside Rotary Golf Classic, please email info@playaseasiderotary.org
For more information about the event, visit the official website www.seasiderotarygolfclassic.com. Images from the tournament can be found on the Rotary Playa del Carmen Seaside Facebook page.