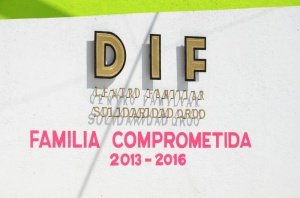 Recently, Playa del Carmen Rotary Club Seaside, donated a much needed hot water heater to the physical therapy unit at the CRIM Center at DIF Solidaridad. The boiler was needed to feed two hydro-therapy units which had previously stood unused for lack of hot water. These units, now fully functional, assist in therapies of adults and children recovering from injuries or suffering from physical disabilities such as muscular dystrophy.
The Sistema Nacional para el Desarrollo Integral de la Familia; SNDIF or just DIF, is a Mexican public institution of social assistance that focuses on strengthening and developing the welfare of Mexican families. The mission of DIF is to improve the situation of vulnerable children, youth, seniors and persons with disabilities by driving public policies and administrating projects that promote social welfare and family integration. DIF manages a number of social programs for the elderly, children and families.
In 2011, under the leadership of Municipal President Román Quian Alcocer, the CRIM center was created to fill the needs of Playa del Carmen residents with disabilities of all kinds, physical, emotional and developmental. A division of DIF, the Centro de Rehabilitación Municipal de Solidaridad (CRIM) works with people at all economic levels and carefully determines what people are able to pay, works with seguro popular and IMSS and helps them to get affordable or even co-cost assistance.
Seaside Rotary was delighted to be approached for help and pleased to see these hydo-therapy units up and running and benefiting the residents of Playa del Carmen. The membership looks forward to working together with our municipal leaders on future projects with DIF on similar social and therapeutic programs.