For the 5
th
year running, Seaside Rotarians have had the privilege of acting as ambassadors for Mexico's only PGA TOUR tournament, the
OHL Classic at Mayakoba
. This year, 12 members of the Rotary Club of Playa del Carmen Seaside, lead by Captains John Marty and Scot Lyall, covered a total of 66 shifts during this exciting 4-day tournament. An additional 9 volunteers joined us from the Riviera Maya community, rounding out our ranks and ensuring we were well represented and all of our positions on the course were covered.
Once again, Seaside Rotary was asked to marshall the 18th hole, a placement that always brings a heightened level of excitement for our volunteers. As Ambassadors, our group is charged with crowd control, keeping spectators still and quiet as the players are taking their shots, helping with the flow of traffic around the tee box and the green, wrangling the various needs of the media and spotting balls that fly off course…. even finding one ball lodged 12 feet overhead in a tree!
It sounds simple enough but many hours standing in the sun, eyes trained upward tracking the trajectory of the golfers' shots, can start to take its toll after awhile. On Day 2, Seaside Rotarian Lydia Marty took a shot to the knee and an errant ball found friend of Rotary Mark Kirby, striking him squarely in the back of the head! He left with more than just memories of his day as a volunteer!
Equally as important, throughout the tournament, we are truly "Ambassadors" for the Riviera Maya, helping to promote the region and ensure that the participating golfers and spectators will want to come back year after year. Our presence at the event as official representatives of Seaside Rotary helps bring exposure to our club and the good work we are doing in the Playa del Carmen community. People we engaged with throughout the tournament were very surprised to learn that there was an English speaking Rotary club here in Playa del Carmen!
Our participation in this event earns the club about $3000 USD dollars every year, 100% of which goes right back into the Playa del Carmen community in our efforts to "Help Playa's Kids". Thank you to all Seaside Rotary members and friends of Rotary who took time out of their busy schedules to support the event and the club in this important fundraising opportunity. A special thanks to Seaside Rotarian John Marty for his great leadership and organizational efforts.
Seaside Rotarian Ambassadors               Friends of Rotary
Lydia Marty                                                           Siobhan Gallagher
John Marty (Captain)                                         Curtis Roy
Scot Lyall (Captain)                                            Nolan Clark
Doug Morgan                                                       Rick McCarthy
Michele Kinnon                                                   Mark Kirby
Webb Elkins                                                         Adriana Vela
Rand Sisson                                                          Liz Rice
Patrick Greville-Morris                                      Kasia Kochanowska
Marina Barabancea                                             Steven Solotoff
John Phillips
Georgia Solotoff
Sharon Montoya Welch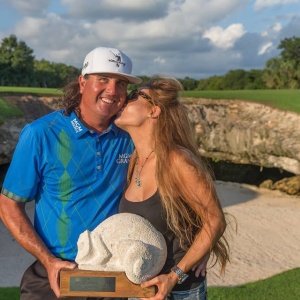 The Rotary Club of Playa del Carmen Seaside would like to congratulate Pat Perez, the Champion of the 2016 OHL Classic at Mayakoba! In his third start of the 2016-17 PGA TOUR Season, Pat Perez came from one back to win the 10th annual OHL Classic at Mayakoba. Perez, made five birdies and one bogey en route to a 21-under-par score of 263, achieving a two-stroke victory over 54-hole leader Gary Woodland. With this win, Perez tied Harris English's (2014) tournament-record low 72-hole total earning $1,260,010 USD in prize money!